How Oasis Berry Farms came to be
Hi, I'm Rodolfo and for over 40 years now, my family have been fruit growers.
Back in 2012 I was looking for the ideal block to buy for a blueberry farm, and found the perfect site – a burnt out 17-acre block in Steels Creek in the Yarra Valley.  Blueberries need full sun and this site offered that and was three times the size of the MCG and 'just right'.
From Unusable Block to First Harvest
The first two years were spent clearing all the debris, removing old fencing and fallen trees, and putting in a new deer-proof fence.  We then set about building a packing shed, digging out a dam, installing irrigation pumps, water mains, electrical mains, and building the driveway.  The solar panels we put on the shed roof provide us with all the electricity we need during the summer.
Then, we mapped out the landscaping, deciding where the gardens and blueberry bushes were going to go, and began the long job of preparing the land for planting. It wasn't until August 2015 that we planted our first blueberry bushes, and we continued planting for the next five years and now have 10 varieties of blueberries and over 5,000 bushes.
We harvested our first blueberries in the summer of 2018, with a very small yield, which increased over the years as more bushes matured and came into production.  Last season we produced 14,000kg of blueberries and it's increasing year on year.
17
acres of farmland & gardens
10
different varieties of blueberries
14,000
kilograms of blueberries harvested last year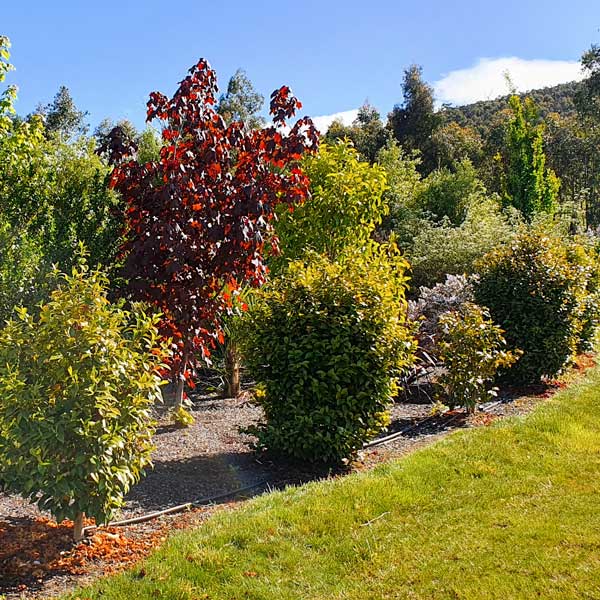 Theme Gardens at Oasis Berry Farms
I wanted to create a property that people would love to spend a whole day visiting, so I set about designing various gardens.  Farmers are basically gardeners just on a larger scale and I love a challenge when it comes to growing plants and trees.  And it's fun to start with a blank canvas and experiment over the years, planting thousands of varieties of plants and trees seeing which adapt best to our climate.
Along Came Some Dinosaurs
When I was planting out some large leaf prehistoric varieties of plants, I could picture the dinosaurs that were here on earth at the same time and from this grew the idea for a dinosaur garden, complete with authentic plants.  Our family of dinosaurs now live with a giant tortoise and some baby hatchlings in a special "Dino Proof" enclosure, full of bamboo. Our dinosaurs love people, so make sure you see the dinosaurs and hear them roar on your next visit.